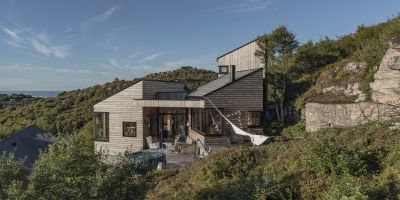 Location:

Stokkøya

Client:

Karine og Håkon Blomstrøm

Project:

Cabin

Building period:

2018 - 2019

Floor area:

90m2

Architects:

Andreas G. Gjertsen and Ørjan Nyhem

Photos:

Fur arkitekter
Downloads:
The Brattlia (steep hill) cabin is a small collection of buildings that are carefully placed in the landscape taking care of the unique rock formations at the site. By 3D-scanning the site before planning we were able to position the building accurately and avoid unnecessary damage to the site. The scan of the site also gave us full control when framing the spectacular view towards the sea and creating a good sense of privatization with the neighboring cabin.
It was our ambition to create interesting lines of sight through the different rooms of the cabin. From the start we had a goal to make an architecture that is pragmatic and simple, yet rich in spatial quality. When visiting the project, one will experience shifting light and weather throughout the day.