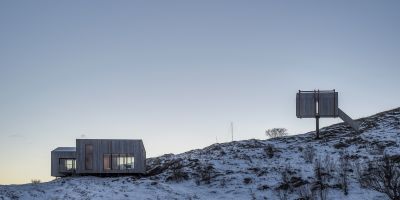 Fordypningsrommet Fleinvær
Location:

Fleinvær, Gildeskål Municipality, Norway

Client:

Håvard Lund

Project:

Artist Residency

Building period:

May 2013 - January 2017

Floor area:

132 m2

Architects:

Sami Rintala
Andreas G. Gjertsen
Yashar Hanstad
Dagur Eggertsson

Photos:

Pasi Aalto
Downloads:
Working in a picturesque island with the majestic Lofoten mountain chain as a backdrop may sound like a dream scenario for any architect. At first sight, Fleinvær may appear rough, windswept and weather beaten. At the same time the small isle has a less obvious fragility to it.

The building site was subjected to a thorough 3D scan that gave a full overview of the lot, instrumental in guiding the further development of the project. A modest interference with the ground stood out as an important principle for the building process. The concern for the natural surroundings is reflected in the small building volumes and their careful adaptation to the terrain.
Many hands and head have contributed to the finished Immersion Room. Architects, students, artists and other volunteers have given a supreme effort in a process where the path forward formed with each step.