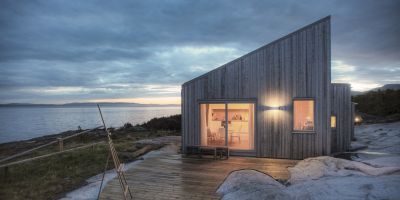 Architects:

Andreas G. Gjertsen and Ørjan Nyheim

Location:

Skardsøya, Møre og Romsdal

Client:

Sissel By and Olve Aarhaug

Project:

Private cabin

Building period:

2013 – 2016

Floor area:

60 m2 + mezzanine

Photos:

Pasi Aalto
Downloads:
The building sits amidst marshland, bedrock and scattered wind-swept pines. An important consideration in the project was to avoid interfering with the surrounding terrain since it heals slowly due to climatic factors.
The structure rests on a concrete base, and the main building is a studwork house with extensive use of wood for cladding. The main building sits on three different levels lowering the height and emphasises the connection between the interior of the cottage and the outside areas.
From the west the cottage appears rather tall, while from the east it looks lower and more adapted. Entry to the main building is situated next to the outhouse, and a shared gallery roof keeps it sheltered from rain and wind.
The clients did most of the construction work themselves. This level of client participation is rare, and we were delighted to see the level of personal commitment put into the details. The exterior of the building is clad in spruce harvested from the client's own forest. This untreated material fades quickly, attaining a light and silvery shimmering hue. The outside detail is kept to a minimum to ensure an even patina for the walls.