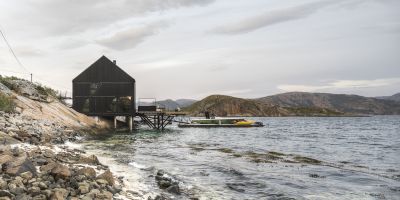 Location:

Stokkøya, Trøndelag

Client:

Remy Nordvik

Project:

Restaurant and accommodation

Building period:

2017 - 2019

Floor area:

115 m2

Architects:

Andreas G. Gjertsen, Yashar Hanstad and Ørjan Nyhem

Photos:

Pasi Aalto
Downloads:
By the shore of Stokkøya in central-Norway lies Naustet – an event-based project where visitors can get a unique food experience rooted in Norwegian coastal culture. There was an old boathouse on the site and the name "Naustet" is derived from the Norwegian term for the traditional boat house. The roof of the existing building was destroyed by winter storms and the main construction was badly damaged by rot.
Keeping the size and placement, the old boathouse was reinterpreted into something contemporary. The main construction of Douglas fir, joined using traditional dowels without other fasteners, was prefabricated in the Netherlands.
The matte black outer cladding made of spruce is treated with linseed oil. The windows are produced with a reflective metal coating which mirrors the shifting light along the coast.
The interior space is one continuous space that measures seven meters in height. The dining table can seat 12 people and a complex assembly of 4 double-bed mezzanines are suspended from the roof. On the main floor there is a compact core with storage, bathroom and toilets.
The interior is spacious and open yet creates an intimate and rich atmosphere. Naustet has clear references to the traditional and familiar, and at the same time it is a unique and innovative project.