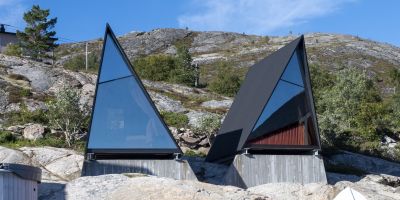 Location:

Stokkøya, Trøndelag

Client:

Remy Nordvik

Project type:

Sleeping units, annex to Naustet

Building period:

2020

Floor area:

9m2 per unit

Architects:

Andreas G. Gjertsen and Ørjan Nyhem

Photos:

Fur arkitekter
These two small sleeping pods were added to the main Naustet project to accommodate for four more guests. Each hut has a double bed with spectacular view towards the ocean.
Two steel beams placed on a simple concrete wall carries a bare-bones pine timber structure. Heating is integrated in the floor construction for colder days and the reflective coating prevents the rooms to be overheated by sunlight.