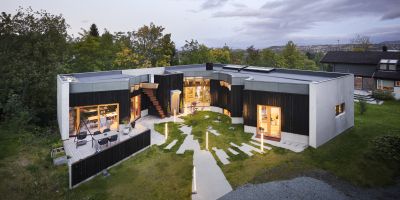 Location:

Trondheim, Norway

Client:

Tine Solberg og Håvard Elnan

Project:

Single-family house

Building period:

2017 - 2019

Area:

161m2

Architects:

Andreas G. Gjertsen, Ørjan Nyheim og
Yashar Hanstad (Agraff arkitekter)

Photos:

Kristoffer Wittrup
Rognervegen 4 is located at the edge of a small copse of trees outside of Trondheim, hidden from view behind an old red barn. The strict outer walls made from prefabricated concrete keeps the complex wooden house in check. The glulam and massive wood roof structure radiates from a central point with an apple tree in the center.
In this project we (then TYIN tegnestue Architects) chose to take charge of the whole building project as the main contractor. This gave us an unique opportunity to test architectural ideas and we were able to be less compromising than usual. This experimental way of handling the project also gave us useful insight to the challenges and possibilities of a building project.

The design and realization of this architectural experiment resulted in a interesting and good home for the family living there.